I'm always looking for love...in the form of sweet treats and great books to read. This weekend, authors at Sweet Cravings Publishing are getting together to share lots of great, sweet love stories, so how about a tasty treat for your sweet tooth, too?
I like quick. I like easy. So this little 5-minute "quickie" is a definite favorite: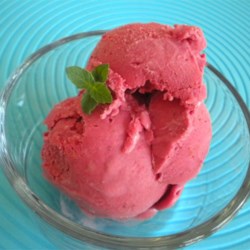 Looks good, doesn't it! It is good. Here's how to make it.
Ingredients:
1 10-ounce package of frozen sliced strawberries (or another frozen fruit)
1/2 cup sugar
2/3 cup heavy cream
Just combine the frozen fruit and sugar in a blender or food processor. Process until the fruit is roughly chopped. While the processor is still running, slowly pour in the heavy cream and blend until it's thoroughly mixed. Serve immediately, or freeze for up to one week.
My favorite variation is using frozen sliced peaches. My family also likes making this with mixed frozen berries.
So, got 5 minutes? Make yourself a sweet treat, then grab a sweet love story, curl up and enjoy the summer's day.
Be sure to leave a comment below for a chance to win a $10.00 gift card from Amazon.